Since its inception, Tomorrowland has been one of the most hotly anticipated events every year, with thousands upon thousands of dance music-enthused festival nuts making the pilgrimage to Belgium for the Mecca of all music festivals. This July marks its 10th birthday and to celebrate this epic milestone of raving culture , here are 10 reasons why it's the best festival of its kind in the world.
1. Boom.
No we are not referring to the epic sound pounding out of the speakers on the Main Stage, Boom is an actual place and what a name for a festival town it is. Every year this tiny town, nestled tightly in between Antwerp and Brussels in the Belgian countryside, is transformed to play host to a new world full of music, madness and frivolity. During this time the town's population grows from 16,000 people to 360,000 in a span of two weeks, just for the festival.
2. Tomorrowland has its own Hymn composed by Hans Zimmer
In 2014, to celebrate the big 10th anniversary of Tomorrowland, Oscar winning film and music composer Hans Zimmer has created the first official hymn for the festival. The festival approached Zimmer to create a hymn which embodies the "mystical, magical" aspects which make Tomorrowland so unique. The result, a spine-tinglingly beautiful hymn, in which Zimmer hopes will "bring different cultures together, and all the things that make us different are actually the things we should be celebrating."
3.  You are encouraged to get down and dirrrrttty
Tomorrowland wants everyone to feel the love in way or another. "The Church of Love", found hidden in the forest of the festival, is designed for lovers of all varieties to get some down time, and basically get their gigi on if they want to. Long-term, short-term, new or old relationships are encouraged to lock themselves inside this mischievous church, with safe protection of course. Meanwhile the naughty but nice Nuns stand guard outside, scantily-dressed, egging you on to fulfil your wildest dreams.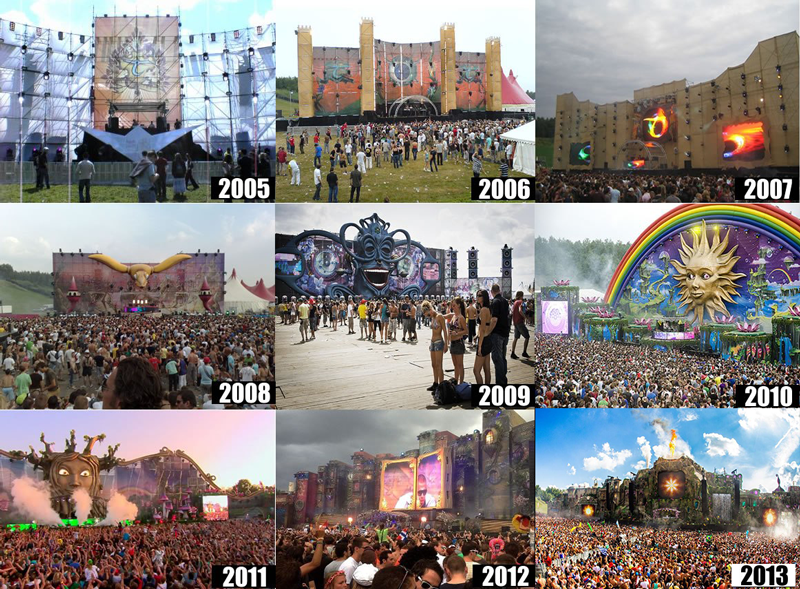 4. The Main Stage
It may seem like the most obvious stand-out thing about Tomorrowland, the "Main Stage", but no one can truly prepare you for the all-over body experience you feel when you see the giant set for the first time. From giant trees, to magical story books, to last year's man made erupting volcano – again, "a man made erupting volcano" – every year, festival organisers, ID&T, raise the bar with their jaw-dropping stage productions. This year saw the 10-year old festival celebrating its anniversary with the theme, "The Key To Happiness."
5. Tomorrowland controls the weather, not Mother Nature
Ever wondered why it is always sunny on the fields of Boom every year? While it was thought to be an urban myth – the idea that Tomorrowland controls the weather, not Mother Nature is very much a reality, and it's amazing. In 2013, monsoon rain and storms threatened to ruin the 3-day festival for punters, however fortunately the people of Belgium do not settle with the idea of being washed out. Originally designed to prevent crop damage from storms, the festival organisers resurrected "hail cannons" around the festival site, producing loud war-like booms every morning to clear the skies. Only at Tomorrowland….
6. Dreamville is well, awesome.
After years of camping out at festivals, it really becomes all about the small luxuries. Besides having its own newspaper, radio station, butcher, supermarket, tattoo parlour, H&M clothing story, and its own currency,  Tomorrowland's own pop-up city Dreamville is truly is a home away from home. To add, there are special "FreshPoints" at the festival site where you can freshen yourself up with deodorant and hairspray!

7. Friendship bracelets!
It is a given that you are going to make new best friends at festivals as big as Tomorrowland. In the toilet line, in the mosh-pit or even back at camp, you will find yourself talking to anyone and everyone about your shared passion of music and partying. This year however, Tomorrowland will play host to more than 214 different countries, a higher number than those who were in the London Olympics. What makes its even cooler, is that the festival organiser have developed Facebook wristbands which ensure you never have that "one that got away" experience with any potential friends.
The concept is quite simple – these wristbands not only store all your information for entry for the festival, but they also serve a social purpose by housing your Facebook account details as well. All you have to do, should you meet an awesome new friend at the festival, is push the love heart button on your wristband and a Friend request will be sent. They think of everything!
8. The food is not festival food.
Food glorious food. Dancing requires sustenance and so does socialising, but one thing you will never have to worry about at Tomorrowland is going hungry. Festival food generally consists of cold 'hot chips' and pizza, however every year Tomorrowland churns out some of the best Belgian cuisine on offer. You can dine at restaurants looking over the Main Stage, order 100% beef burgers cooked by award winning chefs, indulge in Belgian waffles and frozen yoghurt or even feast in their famous Steak House. It's hard to think there is actually a music festival going on as well!
9. Tomorrowland now has cool cousins in America and Brazil.
If one weekend of Tomorrowland is not enough to feed your EDM tastebuds, then do not fret. Tomorrowland now has two other festival cousins. One in the US and and the other in Brazil, which was announced last weekend to be playing host to TomorrowWorld in May 2015. This September will see Atlanta, USA play host to the likes of Avicii, David Guetta, Diplo, Steve Aoki…the epic list goes on and on!
10. The After-movie
Finally, who could forget.
With more cinematic praise than most Oscar films, the Tomorrowland after movie is the final glorious memory you can take home from the best weekend of your life. The 2012 Tomorrowland after-movie has clocked up over 115 million views on YouTube to date, turning the festival experience into one big fairytale. From the panoramic views atop the Ferris Wheel, to the crowd shots, inside the DJ booth and across the camp-site, this token piece of memorabilia is 20-30 minutes jam packed full of enviable moments and a perfectly mixed soundtrack. No we know why people across the globe make this journey to the beautiful fields of Boom every year.